During the summer, I picked up a knitted skirt pattern for Ava while taking a friend visiting from out of town to check out some local yarn stores.
I haven't knitted much since before Ava was born, other than a scarf she asked me to make in her signature pink. It had been so long in fact, that when Jason's Great Aunt told me recently that her favorite, warm, "going to church" scarf was one I knitted for her, I literally had no recollection of doing it. In fact, looking at the well-done cable pattern down the middle, I only vaguely recalled knowing how to knit a cable! But I checked my pattern stash and sure enough, it was there, along with the remaining scrap of yarn that I'd used.
With that kind of lag since I'd picked up needles in earnest, the basic skirt pattern I found last summer seemed simple enough to work on quickly: a few decrease rows after the cast on with two yarns held together, several inches of Stockinette stitch and some easy ribbing.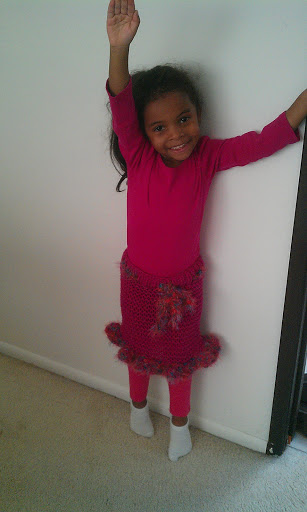 But with my schedule over the past year, I struggled to find extended amounts of time to spend on it. And when I did, I was often distracted, trying to keep an eye on the kids or grabbing a few moments before nodding off in bed.

Note: while it's possible to knit a simple stitch like this while watching my kids at a mall play area, the activity drew several other staring children who clustered around to watch me work before flitting off to play again and later return to check to my progress.
The lack of unencumbered time though explains why I started, failed and re-knit this skirt twice before getting it right. The first time, I managed to get my cast-on twisted, resulting in a mobius strip-like tube: an unrecoverable knitting error when knitting in the round.
Next, I followed the directions that a lady at a local yarn shop had customized for me and Ava using her exact measurments. We both thought it was knit top down, when actually, it was bottom up and I didn't notice until several inches along. Grrr.
I guess in hindsight I could have finished it either way, but I wasn't sure about the increases/decreases for the ruffled bottom, so I ripped my stitches out AGAIN and started over, after a frustrating night untangling the ripped out lengths of yarn and re-rolling them in to managable balls in the wee hours while everyone slept. Because 11pm to 2am is the only "me" time I'm ever able to carve out this busy holiday season. Okay, any season.
I know, I know: non-knitters may read that and think, "Isn't a hobby or craft supposed to be fun and easy, not frustrating?" Right you are, which only increased my frustration as I thought of all the wasted time. Not to mention that for what the yarns cost, I could have bought Ava a whole outfit plus shoes at my retail favorite Target. But I've learned that skimping on yarn quality is just like skimping on food quality: you may finish what's on your plate (or in your knitting bag), but you will not be satisfied or happy with the end result.
Also, I am persistent (okay, occasionally stubborn) and there was no way I was going to let a prechooler-sized, simple two-yarn skirt get the better of me. Also, this was one of those opportunities to demonstrate committment, patience, and triumph over frustration to the kids, right?
So I knit, unknit, and re-knit again (and again), finally getting this bad boy done in time to go under the tree at Christmas. Granted, I finished the knitted I-cord belt a couple days later, but still, DONE. Take that, skirt of frustration!
Best part? When Ava opened it, she squealed, hugged it to her chest and proclaimed, "This is the best Christmas EVER!"
Oh kid. You have no idea. And while I love me some Target, I can guarantee that no outfit from there is getting that reaction or giving me the same level of satisfaction for providing it for her.